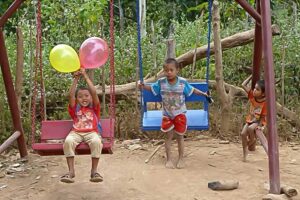 Hoikor is a very remote and extremely poor village with an ethnic population. The village is two hours from Luang Prabang by boat on the Mekong River. Year 6 and 7 students at North Beach Primary School in Perth, Australia have taken the little school of Hoikor into their hearts.
We have built a brand new classroom to accommodate the increasing number of students attending the school. We have also been providing ongoing support to build a new water tank, replace the ceiling in a classroom and building concrete stairs so the kids can climb the path to the school as well as some second hand clothes.
The funniest sight had to be the little boy who received a pair of new underpants. He didn't want to put them down so played with his balloon with his undies hanging on his arm.