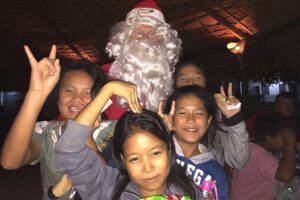 In December this year, we brought a magical Australian Christmas event to the children at the Deaf Mute Centre, complete with streamers, fairy lights and tinsel.
We were meet with so much love and so many hugs as soon as we got off the tuk tuks. Even though they were unable to speak, the festive air was everywhere with many school leavers making strong connections with their buddy and communicating in sign language.
Santa finally arrived after a great evening with a feast of food, looking resplendent in his red suit and carrying a big bag of gifts. As each kid stepped up to receive their gifts, their smiles grinning from ear to ear, they opened their gifts with glee, sharing it with each other the fun and festivities of the night.