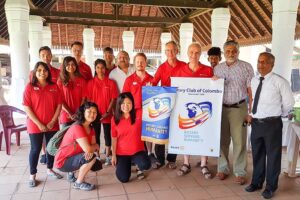 Vision impairment is one of the most common disabilities in the world and yet it can be rectified easily with a pair of spectacles. As part of RAWCS projects, we partnered with Rotary Club of Colombo/Matara (Sri Lanka) and multiple agencies to provide the much needed ocular screening health service to low income earners in Sri Lanka. As a result of the intervention 3000 people were screened and 2750 pair of free spectacles were freely provided.
The mobile eye care camps were conducted in Katana, Maskeliya, Matara and two orphanages, over a period of 8 days, from 5th-12th January 2017. The supply of spectacles came from mainly three sources: purchase of spectacles through RAWCS funding; reconditioned glasses from Acacia Prisoners as part of their rehabilitation training in Perth, WA; donation of 900 pairs of glasses from Essilor Vision Foundation (India). Beneficiaries included school children, mature adults and elderly people. Many people identified with impaired vision were provided corrective glasses or given further referrals to optometry services and cataract surgeries.
It's a humbling exercise to discover that many people were walking with terrible eye sight due to poverty, lack of health facilities/health literacy. Many of them cannot afford an eye check, let alone a pair of glasses. Although this mission is only a small step toward the aim of helping the 2.5 billion people in the world who suffers from uncorrected poor vision- for those who benefited from this project, the pair of eyeglasses they received as a real life changer.
See the following links: